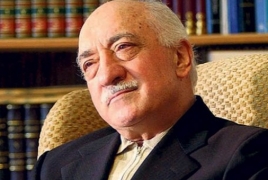 July 12, 2017 - 13:47 AMT
PanARMENIAN.Net - Fethullah Gulen, the U.S.-based Muslim cleric accused by Turkey of instigating last year's failed coup, says he has no plans to flee the United States and would accept extradition if Washington agrees to a request by Ankara to hand him over, Reuters reports.
In an interview in his gated compound in Pennsylvania's Pocono Mountains, Gulen, 79, denied a Turkish government allegation from February that he was preparing to leave for Canada to avoid extradition.
"The rumors aren't true at all," he told Reuters.
"If the United States sees it appropriate to extradite me, I would leave (for Turkey)," he said, sitting in an ornate meeting room, its walls lined with Islamic scripture.
President Recep Tayyip Erdogan and the Turkish government accuse Gulen of orchestrating last July's attempted coup, in which rogue soldiers commandeered tanks and fighter jets, bombing parliament and trying to abduct or kill Erdogan. More than 240 people were killed in the violence.
The Turkish Embassy in Washington declined to comment on Gulen's latest remarks. The White House did not respond immediately to requests for comment. Officials in Ankara could also not immediately be reached for comment.
Erdogan said in May he would pursue "to the end" Turkey's demand for the extradition of Gulen, who denies any involvement in the coup attempt. But there has been little or no concrete progress on the Turkish request.
U.S. officials have said privately that even though Erdogan has appealed directly to U.S. President Donald Trump on the matter, Turkey has yet to provide enough evidence for the Justice Department to act.
The issue has been a major sticking point in the relationship between the two NATO allies.
Gulen said he hoped that the Trump administration would not allow his extradition to move forward, especially after the resignation of former national security adviser Michael Flynn, a White House aide who quit just weeks after Trump's inauguration.