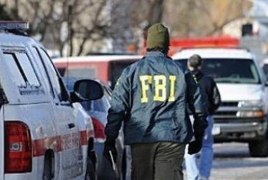 July 12, 2017 - 15:53 AMT
PanARMENIAN.Net - U.S. president Donald Trump's pick to lead the FBI faces a confirmation hearing Wednesday, July 12 that will undoubtedly focus on the political tumult surrounding his nomination, with both Democrats and Republicans seeking assurances of his independence from the White House, The Associated Press reports.
Christopher Wray, 50, would inherit the nation's top law enforcement agency at a particularly challenging time. Trump abruptly fired predecessor James Comey, who was widely admired within the agency, during its investigation into Russian meddling in the U.S. presidential election and potential coordination with the Trump campaign.
Wednesday's hearing before the Senate Judiciary Committee could delve into Wray's lengthy legal career that included a stint as a top Justice Department official in the Bush administration and white collar work at an international law firm with several major corporations and banks as clients.
But lawmakers are more likely to drill into Wray's leadership style and how he would operate under a president who is said to have demanded loyalty from Comey and who has appeared insensitive to the traditionally bright boundary between the White House and the FBI.
Announced as the nominee in a curt, early morning tweet by Trump, and without the pageantry of a Rose Garden ceremony, the hearing will offer the first public, close-up look at Wray's background.
Wray was at the department in 2004 when Comey, then the deputy attorney general, and then-director Robert Mueller threatened to resign during a dispute with the White House over the reauthorization of a domestic surveillance program. Wray stopped Comey in the hallway one night amid resignation rumors with a particular request, according to the 2011 book, "The Threat Matrix."