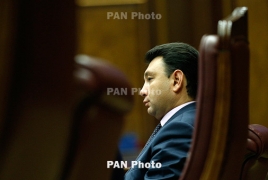 July 21, 2017 - 15:06 AMT
PanARMENIAN.Net - Spokesman for the Republican Party of Armenia (RPA) Eduard Sharmazanov has responded to proposal from Yelk bloc to leave the Eurasian Economic Union, Aravot.am reports.
Two lawmakers from the opposition Yelk bloc had earlier suggested that Armenia should leave the union.
According to Sharmazanov, abandoning the bloc "doesn't stem from Armenia's interests."
"We came up to that decision after certain calculations and made sure that Armenia, the agricultural and tourism sectors will benefit from it," the ruling party representative said.
"Of course, the bloc is facing some challenges, but talks about leaving the EEU don't stem from Armenia's interests."
Sharmazanov added that the EEU membership has resulted in the growth of the volume of finished products and the number of tourists both in Armenia and Artsakh (Nagorno Karabakh).
Also, he reminded that the natural gas tariffs have been reduced.