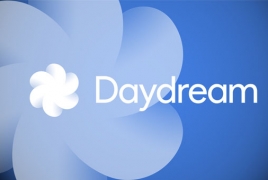 July 25, 2017 - 18:55 AMT
PanARMENIAN.Net - Google CEO and freshly appointed Alphabet board member Sundar Pichai was typically guarded during Monday, July 24's Alphabet earnings call, but he did disclose a nice number for us to look forward to. By the end of 2017, said Pichai, there will be 11 Android smartphones on the market that support Google's Daydream virtual reality platform, The Verge says.
Daydream turns compatible smartphones into standalone VR systems: you just need one of Google's Daydream View headsets to hold the device, together with the accompanying touch controller, and you're away.
Daydream's big distinction from the larger PC-tethered alternatives like the HTC Vive and Oculus Rift is in just how light and comfortable it is. Obviously, a Daydream phone is also much more portable and versatile too, but the standout feature is that you can wear that headset without it feeling heavy and tiring after only a few minutes.
As things stand now, there are only a few Daydream-compatible models to choose from: Google's own Pixel handsets, Motorola's Moto Z, Huawei's Mate 9 Pro and Porsche Design Mate 9, ZTE's Axon 7, and Asus' Zenfone AR. Samsung famously announced Daydream support will be coming to its flagship Galaxy S8 and S8 Plus, and that's just started rolling out as a software update.