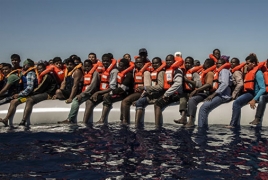 July 26, 2017 - 16:49 AMT
PanARMENIAN.Net - Libya's UN-backed Prime Minister Fayez al-Sarraj has appealed to Italy to send ships into Libyan territorial waters to help combat human trafficking, Rome said Wednesday, July 26, AFP reports.
Sarraj "sent a letter requesting the Italian government provide the technical support of Italian naval units in the joint struggle in Libyan waters against human traffickers," Italian Prime Minister Paolo Gentiloni said.
Gentiloni said the ministry of defence was considering the request and "the options will be discussed with the Libyan authorities and the Italian parliament".
Should Italy respond positively, "as I believe is necessary, it could be a very important development in the fight against people trafficking," he added.
The Italian PM was speaking after a meeting in Rome with Sarraj, the head of the Government of National Authority (GNA), based in the capital Tripoli.
The move would doubtless help cut down the number of migrant boat departures from the coast of crisis-hit Libya and ease the strain on Italy, which has struggled to house the many thousands of people rescued at sea.
Sarraj admitted "we need to do more so that our coast guard can fight illegal immigration and ensure that we have advanced technologies to control our coasts".
Close to 94,000 people have been brought to safety in Italy so far this year, according to Italy's interior ministry, an increase of over five percent compared to the same period last year.
More than 2,370 people have died since January attempting the perilous crossing, the UN refugee agency said.