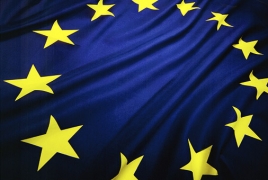 July 31, 2017 - 15:44 AMT
PanARMENIAN.Net - Data in the coming week should confirm the euro zone economy is running hot, after the IMF upgraded growth forecasts and Greece returned to the debt market, although inflation figures could throw cold water on ECB plans to start tightening policy, Reuters reports.
Growth in the single currency area outstripped paltry expansion in the United States and Britain in the first quarter and the pace did not let up in the April-June period.
The euro zone may not be growth champion in the second quarter, after the U.S. rebounded to an annualized 2.6 percent thanks to consumer spending and business equipment investment. But it should again fare better than Britain, whose economy failed to build momentum.
A forecast expansion of 0.6 percent in the April-June period, equivalent to an annualized 2.4 percent, would be the third consecutive quarter in which the euro zone has grown at or above a half percentage point, for the first time since 2007-08.
"The global economy has been a jumbo jet running on just one engine for the last five, six years, the U.S., but now it seems there's more from the euro zone as well, with encouraging signs from Asia too," said James Knightley, chief international economist at ING.
Data on Friday, July 28 showed the euro zone's second-largest economy, France, grew by 0.5 percent for a third successive quarter, while Spanish GDP returned to pre-crisis levels with 0.9 percent expansion.
"Momentum is there. We're getting a broadening out of countries in terms of economic performance. It's not just the likes of Germany driving it all forward ... There does seem to be self-sustaining momentum," said Knightley.
Euro zone economic sentiment, as compiled by the European Commission, grew for a third straight month in July to a new 10-year high due to a pick-up of the dominant services sector. And confidence levels in all sectors, as well as for consumers, are far above historical averages.
The International Monetary Fund has hiked outlooks for China and the euro zone, while trimming those for the United States and Britain. The Fund said the euro zone's recovery was firming and becoming broad-based, with stronger domestic demand, although it warned of downside risks.