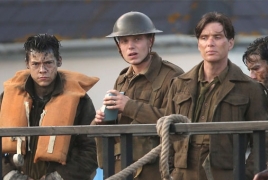 July 31, 2017 - 15:25 AMT
PanARMENIAN.Net - "Dunkirk" still wins the weekend at North American box office. Boosted by glowing reviews from critics, the World War II drama from director Christopher Nolan collected an estimated $28.1 million in its second weekend for a domestic total of $102.8 million so far, AceShowbiz reports.
Down only 44% from its first weekend, the movie starring Harry Styles holds on to the top spot, after appearing to be neck-and-neck with "The Emoji Movie". The animated movie earned approximately $25.7 million against is estimated budget of $50 million.
"Emoji Movie" didn't get much love from critics, but audiences still turned out. "Kids don't care about reviews, and there is a severe lack of family films in the marketplace," Paul Dergarabedian, a senior media analyst for comScore, explains.
"It's great when the critics and audiences are in sync but in the end it comes down to: Has the film reached the intended audience?" says Adrian Smith, Sony's president of domestic distribution. "Seeing these results, it clearly has." Sony is expecting the film to play well for the rest of the summer.
Another newcomer, "Atomic Blonde", debuts at No. 4 with an estimated $18.6 million. The number is good for the R-rated film, which cost about $30 million to make. The Charlize Theron-starring spy thriller is dubbed 75% fresh on Rotten Tomatoes.
"We think it's a really solid opening for the movie and think that the film is going to have a nice long life at the box office for the summer," says Lisa Bunnell, president of distribution for Focus Features.
"Girls Trip" stays strong in its second weekend, earning an additional $20.1 million or dropping only 36% to hold on to its third place. "Spider-Man: Homecoming" rounds out the top five with an estimated $13.4 million. It has earned $278.4 million domestically so far and crossed $600 million worldwide.
Meanwhile, Kathryn Bigelow's riot drama "Detroit" opened in limited theaters to an estimated $365,455 from 20 locations, for a per-theater average of $18,273, which is good for the movie ahead of its wide release.
"We were doing early word of mouth screenings, and they were very strong. People were hanging in the lobby of theaters after talking and talking. We decided to kick-start the conversation early," says Annapurna distribution president Erik Lomis. "We're really excited to launch this picture."