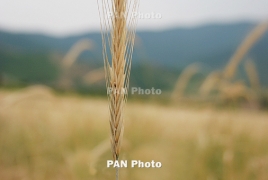 August 2, 2017 - 12:16 AMT
PanARMENIAN.Net - Rising carbon dioxide levels from global warming will drastically reduce the amount of protein in staple crops like rice and wheat, leaving vulnerable populations at risk of growth stunting and early death, experts warned on Wednesday, August 2, according to AFP.
Researchers say they still don't understand how or why carbon dioxide emissions sap protein and other nutrients from plants, but the mystery is one that could have devastating consequences across the globe.
An additional 150 million people globally may be at risk of protein deficiency by 2050 because of rising levels of carbon dioxide in the atmosphere said the report in the journal Environmental Research Letters.
The study, led by Harvard University researchers, is the first to quantify the impacts of global warming on the protein levels of crops.
It relies on data from open field experiments in which plants were exposed to high concentrations of CO2.
Global dietary information from the United Nations was used to calculate the impact on people who live dangerously close to the edge when it comes to getting enough protein. Without it, growth is stunted, diseases are more common and early mortality is far more likely.
Carbon dioxide is a byproduct of fossil-fuel burning that helps trap heat around the Earth. Without stark action, these emissions are expected to climb in the decades to come, resulting in rising seas, hotter temperatures and more extreme weather events.