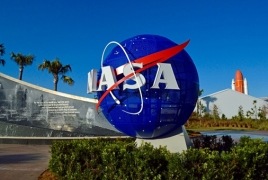 August 2, 2017 - 14:01 AMT
PanARMENIAN.Net - NASA is looking for a new Planetary Protection Officer.
This is someone who will (attempt to) make sure that aliens don't bring their questionable microbes down here and that we don't infect our future overlords when we go up there, CNet reports.
The job description offers that the successful applicant will be in a privileged position in the Office of Safety and Mission Assurance for Planetary Protection.
This seeks "the avoidance of organic-constituent and biological contamination in human and robotic space exploration."
This is clearly an onerous task. Some speculate that aliens are already here and have been for some time. Why, Canada's former defense minister Paul Hellyer insists that aliens would have already given us more of their superior technology, if only we'd stop all our sad little wars.
Still, the qualifications for the job -- which pays between $124,406 and $187,000 a year -- aren't extreme. Well, other than perhaps the "advanced knowledge of Planetary Protection, its requirements and mission categories" part, and the "demonstrated experience planning, executing, or overseeing elements of space programs of national significance" part.