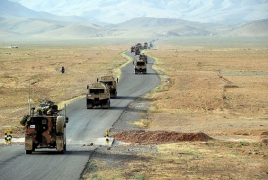 August 2, 2017 - 14:19 AMT
PanARMENIAN.Net - A suicide bomber struck a NATO convoy near the southern Afghan city of Kandahar on Wednesday, August 2, causing casualties, the U.S. military said, according to The Associated Press.
Lt. Damien E. Horvath, a military spokesman, could not say how many casualties there were, or provide their nationalities. The NATO mission, known as Resolute Support, "can confirm that a NATO convoy was attacked in Kandahar. The attack did cause casualties," he said.
Kandahar police spokesman Zia Durrani also confirmed the attack and the area on the edge Kandahar was quickly cordoned off.
No one immediately claimed responsibility for the bombing.
The combined U.S. and NATO troop contingent currently in Afghanistan is about 13,500. The Trump administration is deciding whether to send about 4,000 or more U.S. soldiers to Afghanistan in an attempt to stem Taliban gains.
The attack came as Afghan authorities in western Herat province tightened security ahead of a mass funeral for the victims there of an attack the previous evening that killed 29.
A suicide attacker opened fire inside a mosque packed with worshippers at evening prayers, before detonating his explosives. A second explosion came 10 minutes later.
No one has claimed responsibility for that attack either, but it came a day after the Islamic State group warned it would strike Shiites. The Sunni militant group considers Shiite Muslims as apostates.