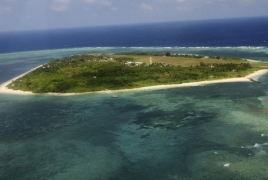 August 8, 2017 - 12:52 AMT
PanARMENIAN.Net - A scheduled meeting between the foreign ministers of China and Vietnam was canceled on the sidelines of a regional gathering, Chinese embassy officials said, amid growing tension between the two countries over the South China Sea, Reuters reports.
Vietnam had held out for language that noted concern about island-building and criticized militarization in South China Sea in the communique on Sunday from foreign ministers of the Association of South East Asian Nations (ASEAN).
Vietnam has emerged as the most vocal opponent of China's claims in the waterway, where more than $3 trillion in cargo pass every year.
The Chinese embassy officials gave no reason for the cancellation of the meeting between China's Wang Yi and Vietnam's Pham Binh Minh.
A Chinese foreign ministry official said they had "already met". Vietnam's foreign ministry did not respond immediately to a request for comment.
State media in Vietnam said the ministers had held a "pull aside" meeting and exchanged views. It showed pictures of them shaking hands.
Although the language in the ASEAN communique reflected that in previous years, some countries pursuing deeper business ties with Beijing, such as Cambodia and the Philippines, had argued for dropping it.
Beijing is sensitive to even a veiled reference by ASEAN to its reclamation of seven reefs and its military installations in the South China Sea, which it claims in almost its entirety despite the competing claims of five other countries.