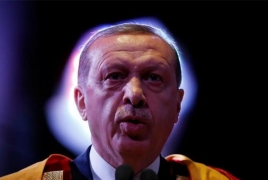 August 8, 2017 - 16:50 AMT
PanARMENIAN.Net - Turkish President Recep Tayyip Erdogan accused Germany on Monday, August 7 of assisting terrorists by not responding to thousands of files sent to Berlin or handing over suspects wanted by Turkish authorities, Reuters reports.
"Germany is abetting terrorists," Erdogan told a conference in the Black Sea province of Rize, in comments likely to further escalate tensions between the two countries.
"We gave (German Chancellor Angela) Merkel 4,500 dossiers, but have not received an answer on a single one of them," he told members of his ruling AK Party.
"When there is a terrorist, they can tell us to give that person back. You won't send the ones you have to us, but can ask us for yours. So you have a judiciary, but we don't in Turkey?" he said.
In Berlin, a German government source rejected Erdogan's latest remarks.
"Everything has really been said about this," said the source. "Repeating the same accusations over and over again does not make them any more true."
Already tense relations deteriorated further last month after Turkey arrested 10 rights activists, including a German, as part of a wider security crackdown.
A Turkish prosecutor has accused them of links to the network of Muslim cleric Fethullah Gulen, whom Ankara blames for a failed coup in July 2016. The U.S.-based Gulen denies any involvement.