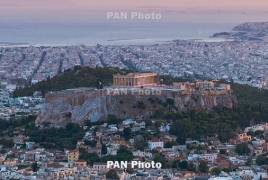 August 8, 2017 - 17:08 AMT
PanARMENIAN.Net - Lonely Planet has a new app for travel enthusiasts. Called Trips, the app uses an Instagram-like design populated with beautiful images of far away places, TechCrunch reports.
Much like Lonely Planet's website, the idea behind Trips is to offer travelers an easy way to share their experiences and discover new areas of the world, this time on their smartphones.
Instagram already has a healthy amount of travel enthusiasts uploading photos of fantastic places for viewers to check out on a daily basis. National Geographic is one of the most popular on the platform, with a following of nearly 80 million. Lonely Planet, by comparison, has about 1.4 million followers on the platform.
Like Instagram, you can "heart," share and follow profiles on Trips as well. But co-founder Tony Wheeler says the intention is not to compete with the social media giant but to compliment it.
Trips is Lonely Planet's second app. The online destinations site launched its first app Guides last year, which provides "tips and advice from on-the-ground experts." Over one million people have since downloaded Guides. Lonely Planet hopes Trips will be met with the same success.
The app is pretty easy to use, just download, select profiles that suit your interest and scroll through the feed. From there you can pick from a number of the populated stories, many of which will come with maps, photos and some information on tours and things you might want to check out. I was personally checking out Rainbow Mountain in Peru posted about a day ago while scrolling through the app.
You can also hit the discover icon at the bottom of the app, to the right of the home icon, to search for categories like "Adventure" or "Wildlife and Nature." From there it will lead you to a feed similar to the home feed but with certain trips in mind.