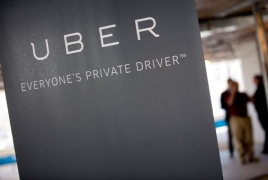 August 28, 2017 - 15:21 AMT
PanARMENIAN.Net - Uber is introducing another driver-oriented feature in the form of "share my trip." If you've ever used the Uber app, you should recognize the option (as it's been available to riders for a while). Just like passengers, drivers can now share their location with friends and family with just a couple of taps, Engadget said.
By enabling the option, chosen contacts will be able to see the driver on a map, along with his or her phone number, and license plate details. To keep any privacy concerns at bay, Uber won't share your route (or any other info about you) with the recipients.
Uber is also targeting passengers outside the US with a new identification check. In regions where electronic payments aren't as common, riders will now be able to verify their identity using their Facebook account.
Along with a bunch of newly announced insurance options, the location-sharing update is the latest aimed at Uber's workforce. It comes on the heels of perks, such as tips (and ways for drivers to earn some extra cash from your forgetfulness).