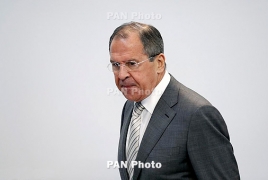 September 1, 2017 - 17:12 AMT
PanARMENIAN.Net - Russian foreign minister Sergey Lavrov has given a hint as to why the conflict in Nagorno Karabakh (Artsakh) has not been solved to this day.
Lavrov expressed concern over "the persistent efforts of NATO to change the military-political situation in the Euro-Atlantic region, including the military build-up in areas bordering Russia," TASS reports.
Russia is a responsible country that is firmly committed to the declarations that have been made over the past 20 years in the Organization for Security and Cooperation in Europe and the Russia-NATO Council, the Russian foreign policy chief said.
"These declarations convey the desire of the parties to form a space of equal security in the Euro-Atlantic and Eurasian countries, as well as an assurance that none of us will strengthen our security by infringing on the security of others," Lavrov said.
At the same time, he expressed regret that these declarations "remained on paper".
"I am convinced that if equal indivisible security really took a legally binding form, many conflicts in Europe would have been settled long ago. He said
According to the foreign minister, this concerns the Nagorno Karabakh and Transnistrian conflicts.
"And no Ukrainian crisis would happen at all," he concluded.
Armenian and Azerbaijan foreign ministers are set to meet the OSCE Minsk Group co-chairs on the sidelines of the 72nd session of the United Nations General Assembly in mid-September. No exact date has been revealed yet.