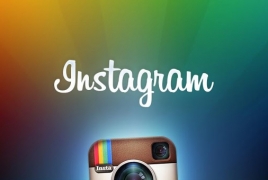 September 2, 2017 - 10:07 AMT
PanARMENIAN.Net - Instagram announced recently it had fixed a bug that allowed hackers to learn users' phone numbers and email addresses. But for thousands of people—including some of the massive social network's most famous members—it may be too late, The Daily beast says.
Hackers have launched a website with a searchable database of some Instagram users' alleged personal info. The data, a sample of which the hackers provided to The Daily Beast, appears to include email addresses and phone numbers for a selection of high profile Instagram users, including politicians, sports stars, and media companies. The data also seems to contain information on more ordinary accounts, too.
"Instagram clearly hasn't yet understood the full impact of this bug," one of the people behind the site, dubbed 'Doxagram,' told The Daily Beast.
The person provided a list of 1,000 alleged Instagram accounts. Each entry also included either an email address, a phone number, or both.
To verify the authenticity of the sample, The Daily Beast said it tried to create new accounts on Instagram with a random selection of email addresses from the list. In every case, the email address was already linked to an Instagram account.
Although the majority of the tested email addresses were also publicly available elsewhere on the internet, many did not return any relevant Google results, implying they were obtained from some private source. Many of the emails were also not included in large scale data breaches, such as LinkedIn, according to breach notification site Have I Been Pwned?, implying that the hackers may not have simply dug up records from previous, publicized security incidents.
At around the same time hackers were using this exploit, someone seemingly took over Selena Gomez's account and posted naked photos of Justin Bieber earlier this week.