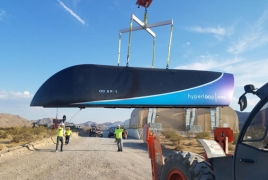 September 14, 2017 - 18:23 AMT
PanARMENIAN.Net - Hyperloop One wants to build a real, working Hyperloop – but it'll need strong partners to make it a reality, across both industry and government. That's why, in part, it held a global competition requesting proposals for routes around the world. The winners of that competition have now been announced, and the resulting routes span the U.S., the U.K., Mexico, India and Canada, TechCrunch says.
Hyperloop One has assessed each proposal from hundreds of teams who applied from around the world, examining the potential of each from the perspective of infrastructure, technology, regulatory environment and transportation concerns. AS a result, it identified the strongest candidates with the following routes:
U.S.
Cheyenne – Denver – Puelbo (360 miles)
Chicago – Columbus – Pittsburgh (488 miles)
Miami – Orlando (257 miles)
Dallas – Houston (640 miles)
U.K.
Edinburgh – London (414 miles)
Glasgow – Liverpool (339 miles)
Mexico
Mexico City – Guadalajara (330 miles)
India
Bengaluru – Chennai (208 miles)
Mumbai – Chennai (685 miles)
Canada
Toronto – Montreal (400 miles)
The next step for each of these winning teams will be a validation process conducted with Hyperloop One to do some in-depth analysis on each route, establishing things like ridership forecast and building a fully fleshed out business case for each.
Hyperloop One will be hosting workshops in each of the above countries to help with this process, and to meet with stakeholders and help establish necessary partnerships.