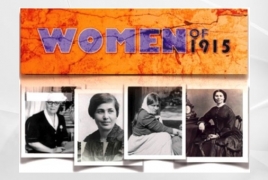 September 19, 2017 - 13:59 AMT
PanARMENIAN.Net - The award-winning documentary "Women of 1915" will make its Rhode Island premiere on Oct. 14, at Rhode Island College's newly renovated and beautiful Gaige Auditorium, The Armenian Weekly reports.
The event is presented by the Armenian Relief Society's (ARS) Providence Ani and Arax Chapters, along with the Rhode Island Hamazkayin Educational and Cultural Society.
The filmmaker, Bared Maronian, will be in attendance for the premiere and will be available for questions following the screening.
"Women of 1915" is a documentary film that unearths the story of the gender that was left behind to experience the worst kind of torture yet display the most heroic form of resilience. Through the movie, the audience bears witness to women who defied gender expectations by fighting back with the same strength and spirit that they have passed down to future generations of women and men alike. The stories of these women, along with the lasting impact they had on the lives they created and touched, will have viewers feeling both heartbreak and admiration.
Maronian's recognized masterpiece on this subject, along with others of his award-winning works, such as "Orphans of the Genocide," have resonated throughout the United States, Europe, and South America.