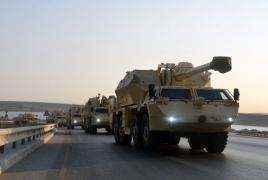 September 20, 2017 - 12:22 AMT
PanARMENIAN.Net - The government of the Czech Republic on Tuesday, September 19 claimed it had not authorized the newly disclosed delivery to Azerbaijan of Czech-made heavy artillery systems, RFE/RL Armenian Service reports.
The Azerbaijani military began on Monday large-scale exercises which it said are involving 15,000 troops as well as hundreds of tanks, armored personnel carriers, cannons and other military hardware. Photographs released by it showed two columns of Dana self-propelled howitzers and RM-70 multiple-launch rocket systems joining the drills.
The weapons are manufactured by Czech companies. The Azerbaijani Defense Ministry did not demonstrate them until this year. It is not clear when and how it got hold of them.
In a statement, the foreign ministry in Prague insisted that in recent years the Czech government has not issued mandatory licenses for the sale of any "lethal weapons" to Azerbaijan. Moreover, it said, the government turned down in 2017 and 2016 Azerbaijani requests for the purchase of the 152-milimeter Dana howitzers and the 122-milimeter RM-70 rockets and informed the European Union about that.
The ministry added that it does not know just how they were delivered to Azerbaijan. It promised to look into the matter.
The United States and other key NATO members states have long maintained embargoes on sales of offensive weapons to Armenia and Azerbaijan. The Czech Republic joined the alliance in 1999.
The Czech Foreign Ministry said the Central European nation is strongly opposed to any attempts at a military solution to the Nagorno Karabakh conflict.