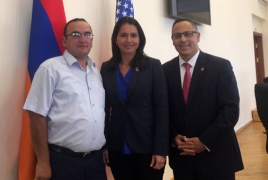 September 20, 2017 - 14:01 AMT
PanARMENIAN.Net - Congressional Armenian Caucus Co-Chairman Frank Pallone (D-NJ) and House Foreign Affairs Committee member Tulsi Gabbard (D-HI) traveled to Artsakh (Nagorno Karabakh) on Wednesday, September 20, where, alongside government officials and ANCA Chairman Raffi Hamparian, they witnessed firsthand the independent Republic's remarkable economic, democratic, and cultural progress, reported the Armenian National Committee of America (ANCA).
"It was an honor to join Representatives Pallone and Gabbard, on the free soil of the independent Artsakh Republic, for this wonderful celebration of our shared commitment to the values of peace, freedom, and democracy," said ANCA Chairman Raffi Hamparian. "As our Congressional friends saw today, Artsakh is a very American story: The victory of a free people over foreign rule, the well-deserved and hard-earned triumph of democracy over dictatorship."
Representatives Pallone and Gabbard visited Artsakh's cultural and religious centers in Shushi and capital, Stepanakert, then addressed members of Parliament. Joining them on their visit were Robert Avetisyan, Permanent Representative of the Artsakh Republic to the U.S., Maria Mehranian, President of the Armenia Fund, and Anthony Barsamian, Co-Chair of the Armenian Assembly of America.
Rep. Pallone has taken several trips to Artsakh dating back to the 1990's. During a press conference in Armenia on Tuesday, Rep. Pallone noted the important role Members of Congress can play in "creating some confidence-building measures and obviously pushing along a process that would lead to a peaceful settlement." Rep. Pallone then offered an important proviso – "All of that necessitates that Karabakh (Artsakh) continue to be Armenian, and have its own self-determination," said Rep. Pallone. "That, we will always insist on."