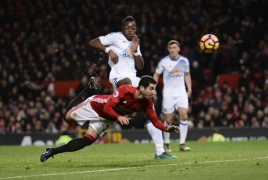 September 20, 2017 - 15:59 AMT
PanARMENIAN.Net - Henrikh Mkhitaryan has transformed himself from a misfit to a mainstay at Manchester United over the last one year, Sportskeeda said on Wednesday, September 20 in an article about the Armenia international's blooming career at Old Trafford.
Henrikh Mkhitaryan has now played a role in more Premier League goals this season (6) than he did in the whole of 2016-17 campaign (5).
In Mkhitaryan, the article says, Jose Mourinho had not only got United the best playmaker in the Bundesliga over the last three seasons but also found a player who is at the peak of his prowess.
"Mkhitaryan's ability to adapt was bound to be tested in the Premier League and even the 2015/16 Bundesliga Player of the season struggled to come to terms with how the game is played in the English top flight," Sportskeeda says.
"As the season went on, though, Mkhitaryan did begin to find his feet at his new club and his performances in the Europa League were a testament to this fact as he played an integral role in leading United to their first ever Europa League success as he managed 6 goals in 11 games."
This season, Mourinho has played Mkhitaryan in his preferred position; an attacking midfielder in all five league games so far.
"The results are there for all to see as he has already managed to better his Premier League tally from last season with one goal and five assists so far," the article says.
"In fact,'Micki's' performances so far this season have been so good that have they forced Juan Mata to see fewer starts than he would like, despite the Spaniard being one of United's most creative players last season.
"Though Mkhitaryan's current form is certainly a testament to his undeniable quality as a footballer, what is far more commendable is the fact that he is actually also living up to a promise he made to his late father," the feature said.