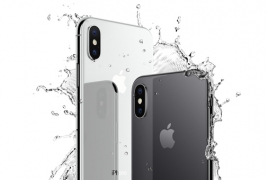 September 20, 2017 - 16:16 AMT
PanARMENIAN.Net - Last year, Apple released Portrait Mode along with its iPhone 7 Plus, which uses the phone's dual rear cameras to create artistic blurry backgrounds that look like photos taken on a DSLR or mirrorless camera.
This year, Apple added Portrait Lighting mode, which lets you add professional lighting looks to your photos.
It will work on the iPhone 8 Plus ($799.00 at Apple) and iPhone X ($999.99 at Apple). But it's unlikely the feature will come to the iPhone 7 Plus since it uses the older A10 processor, CNet says.
From the Camera app, swipe between modes until you land on Portrait. Frame your subject. Then, using the Portrait Lighting effects dial at the bottom of the screen, choose the look you want and take the picture.
The Portrait Lighting effect can be changed after a photo is taken, but the photo has to be taken in Portrait mode -- you can't add a Portrait Lighting effect to a photo that was taken in the default camera mode.
To change effects, go into the Photos app and select the Portrait photo you want to adjust. Tap on the sliders icon to edit. Above the bottom row of editing tools will be the circular Portrait Lighting effects dial. Rotate the dial to the desired effect and press Done on the bottom right.
There are five different effects:
Natural Light - makes lighting look softer, less harsh
Studio Light - adds an even, soft spread of light across your subject
Contour Light - adds gorgeous shadows to contour the face
Stage Light - drops the background to black
Stage Light Mono - the same as Stage Light, but in black and white