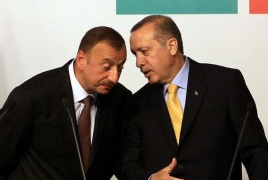 September 23, 2017 - 13:54 AMT
PanARMENIAN.Net - The North American Kurdish Alliance, the "Kevok" Foundation, the Hellenic American Leadership Council, the Armenian National Committee of America (ANCA) Eastern Region, as well as other pro-democracy and human rights groups held a "Rally for Freedom" on Sept. 20 demanding an end to the dictatorial rule of Turkish President Recep Tayyip Erdogan and Azerbaijani President Ilham Aliyev. The rally took place in Dag Hammarskjold Plaza in front of the United Nations headquarters in New York City as the two leaders addressed the UN General Assembly, The Armenian Weekly reports.
"The serious deterioration of democracy and disrespect of fundamental human rights in Turkey and Azerbaijan are of grave concern, and reflect the contempt both regimes have for international law," said ANCA Eastern Region Chairman Steve Mesrobian. "When the world community does not hold them accountable for treating their own citizens so poorly, it should be no surprise that these regimes are emboldened to commit brutal violence and war crimes against Armenians, Kurds, and others outside their borders in Artsakh and Syria, further destabilizing an already unsettled region."
Protesters at the rally called on the regimes to release jailed journalist and political prisoners, stop their denial of the Armenian Genocide, end the illegal economic blockade of Armenia and Artsakh, and stop their export of violence. Fifteen personal bodyguards of Turkish President Erdogan are under indictment for their attacks on peaceful protesters in Washington, D.C., in May.
"To deflect attention from these egregious actions, and from the rampant corruption in their countries, both Azerbaijan and Turkey have engaged in 'caviar diplomacy' to influence Western democracies, investing millions of dollars to have them look the other way," continued Mesrobian.
A recent investigative report produced by the Organized Crime and Corruption Reporting Project and other groups has uncovered close to $3 billion used by Azerbaijan in an apparent money laundering and bribery campaign waged throughout Europe. Turkey has used similar tactics, and has spent millions on lobbying and PR firms in the U.S. and Europe.