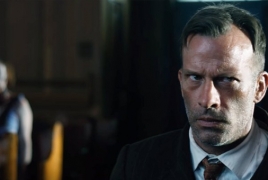 September 23, 2017 - 16:52 AMT
PanARMENIAN.Net - Netflix has released a new trailer for "1922", a mystery horror movie based on Stephen King's 131-page story telling of a farmer's confession of his wife's murder. The approximately 2-and-a-half minute video is full of suspense and offers a look at Thomas Jane as the murderous man, AceShowbiz reports.
The tale is told from the perspective of Wilfred James, the story's unreliable narrator who admits to killing his wife, Arlette, with his son in Nebraska. But after he buries her body, he finds himself terrorized by rats and, as his life begins to unravel, becomes convinced his wife is haunting him.
"In 1922, a man's pride was a man's land, and so was his son," so begins the unreliable narrator. "My wife, she wanted us to leave all this behind," he continues. "We can move!" his wife Arlette, portrayed by Molly Parker, tells him, but he replies, "Cities are for fools."
She later says to him, "We divorce," adding, "We both know that's what you want. Life is rarely fair, especially out here." She also threatens to take their son Henry, played by 18-year-old actor Dylan Schmid, to the city with her.
"I believe that there's another man inside every man," the narrator says. "A conniving man." The trailer then jumps to scenes that show Wilfred conspiring with his son to kill Arlette, with the duo later seen dumping the body at the bottom of a covered well.
The trailer then shows Wilfred being terrorized by rats and starting to see vision of the decaying corpse of his wife rising. "I hope there is no God because if there's no heaven, there's no hell," his son Henry says toward the end of the chilling trailer.