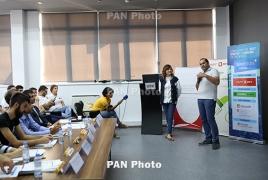 September 25, 2017 - 18:49 AMT
PanARMENIAN.Net - Chessify will represent Armenia at the Seedstars World, a Switzerland-based international startup competition.
Microsoft Innovation Center Armenia in partnership with VivaCell-MTS organized the local stage of international Seedstars competition at the Innovative Solutions and Technologies Center. 11 startups selected out of 70 applications pitched their products to the jury, consisting of international and local experts. The jury members evaluated their products in accordance with a number of criteria: team, current state, scalability, added value, etc.
The products, developed with artificial intelligence and machine learning, were of great interest to the jury and the public in general. Each of them seeks to solve problems in the field of healthcare, education, finance to name a few.
"The participating startups surprised everyone. They are mature enough and ready to enter international markets. In addition, most of them had significant achievements both in terms of investments attracted and product development in target markets. It is worth mentioning that all the products tackle big and global problems. These positive changes and development trends are the achievements of the Armenian startup ecosystem and everyone involved," said Artashes Vardanyan, the Director of Microsoft Innovation Center Armenia.
Thomas Mazejian, Information Systems Department Manager of VivaCell-MTS, which is the general partner of the event, announced the final results of the competition and the name of the winner.
By the decision of the jury, Chessify will represent Armenia at the international stage of the Seedstars World in Switzerland. The product has been downloaded for more than 100,000 times so far. It allows users to scan a chess game, digitize it, make all the moves and visualize the steps. In Switzerland, the startup will have an opportunity to pitch its product to potential investors and partners, as well as compete for a $1million prize fund.
Inapptics and Breedge startups were awarded the second and third prizes, respectively.