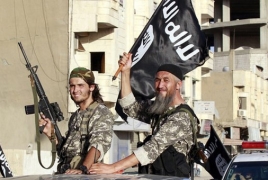 September 26, 2017 - 13:28 AMT
PanARMENIAN.Net - Islamic State militants continue to offer fierce resistance in Raqqa city despite fighters of the US-backed, Kurdish-led Syrian Democratic Forces gradually driving them back into a an ever-shrinking pocket, Al-Masdar News reports.
Amid ongoing attempts by US-backed fighters to penetrate IS defenses within the northern neighborhoods of Raqqa, one key western city suburb, still mostly under the control of the terrorist group, continues to see fierce clashes.
IS-linked media published a brief video (available at the end of this article) showing jihadist militants engaging Kurdish-led forces in the al-Firdaus district, which is in many respects the gateway to gaining control of other suburbs in the city's northern sector.
Despite claims by some sources that US-backed fighters have secured al-Firdaus district, the reality stands that the district remains heavily contested.
At the present time, Kurdish-led forces have mostly – but not entirely – cleared Raqqa's western suburbs from IS, now limiting the terrorist group's main zone of control within the city to the northern districts.
In the process of battling IS over the last fifteenth weeks inside Raqqa, the Syrian Democratic Forces have managed to gain control over about 75 percent of the entire city area.