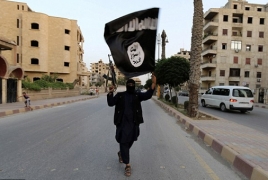 September 27, 2017 - 13:55 AMT
PanARMENIAN.Net - Forces of the Islamic State group have launched a surprise offensive on a key city in eastern Anbar province in Iraq. The terrorist group reportedly breached the city's defenses, entering it and taking hostages, Al-Masdar News reports.
According to Iraqi sources, IS militants launched a major assault on the city of Ramadi (about 100 kilometers west of Baghdad) this morning catching Iraqi security forces off-guard.
Sources say that IS mustered at least twenty pickups trucks armed with heavy weapons for the offensive.
Jihadist militants entered the Ramadi, taking control of the al-Tash and al-Jamea university areas of the city and took hostages.
In any case, Iraqi security forces claim to have since launched a successful counter-attack that saw them retake these areas of Ramadi and kill twenty Islamic State fighters in the process.