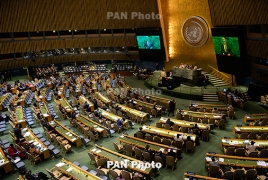 October 5, 2017 - 17:31 AMT
PanARMENIAN.Net - The United Nation is grateful to Armenia for hosting a great number of refugees from Syria,Filippo Grandi, the UN high commissioner for refugees, said on Wednesday, October 4.
Grandi was responding to remarks by deputy Armenian foreign minister Ashot Hovakimyan at the annual meeting of the Executive Committee of the Office of the UN High Commissioner for Refugees (UNHCR).
Hovakimyan said Armenia is ready to continue the efficient cooperation with the Commissioner's office to take care of the displaced and provide necessary assistance to refugees and asylum seekers.
He added that Armenia is the third country in Europe in terms of hosting the greatest number of refugees so far - namely 22,000.
Also, he said, the international community and donor organizations' efforts are necessary for tackling the issue in the country.
Besides, the deputy foreign minister weighed in on the issue of the Armenian refugees that were forced out of Azerbaijan in the wake of the conflict in Nagorno Karabakh. At the same time, he denounced the large-scale military offensive unleashed by Azerbaijan against Karabakh in April 2016.
Azerbaijan on April 2, 2016 launched overt military operations against Artsakh which left hundreds dead on both sides. Top Armenian and Azerbaijani defense officials reached an agreement on the cessation of hostilities on April 5 in Moscow.