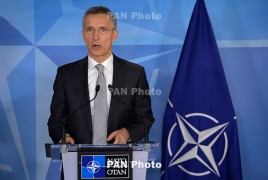 October 10, 2017 - 17:32 AMT
PanARMENIAN.Net - NATO ally Turkey is not seeking to antagonize the U.S.-led alliance by purchasing Russian S-400 surface-to-air missiles and is in talks with France and Italy to buy similar weapons, NATO Secretary-General Jens Stoltenberg said, according to Reuters.
Ankara's decision to buy the Russian system has been seen in some Western capitals as a snub to the alliance, given tensions with Moscow over Ukraine and Syria, while the deal raised concern because the weapons cannot be integrated into NATO defense.
But Stoltenberg said it was a sovereign decision and that he had talked it through with Turkish President Recep Tayyip Erdogan.
"There hasn't been any request from Turkey to integrate the S-400 into NATO air defense system," Stoltenberg told Reuters in an interview on a Belgian military plane returning from Romania late on Monday.
"I spoke with President Erdogan when I met him in September. I said that the kind of capabilities different nations want to acquire is a national decision," he said of the S-400 system that Turkey has made an advance payment for and hopes to see delivered in 2019.
Stoltenberg stressed that top Turkish officials, as well as Erdogan, had told him Ankara remained a strong NATO ally.
Stoltenberg did not give more details but said Turkey was familiar with the so-called SAMP-T missiles developed because Italy had stationed them in Turkey as part of NATO efforts to help protect Ankara from rocket attacks.
Such weapons are designed to protect battlefields and strategic sites such as airports and sea ports against airborne threats, including cruise missiles and aircraft.
The SAMP-T system is produced by Italian-French consortium Eurosam, a joint venture between European missile maker MBDA and Thales.
Russia uses different technology, as well as know-how that Moscow is unlikely to be willing to share, experts say.