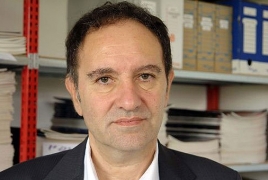 October 11, 2017 - 13:36 AMT
PanARMENIAN.Net - The editor of Nouvelles d'Armenie, an France-based magazine covering Armenia-related issues, Ara Toranian will face a "defamation lawsuit" brought against him for comparing a negationist of the Armenian Genocide to Holocaust denier Robert Faurisson, Libération reveals in article on the matter.
While each genocide has its specificities, negationism always stems from the same hateful mechanism. It represents the same insult to the memory of the victims, the same provocation for the survivors and their descendants, the same attack on human dignity, the newspaper says.
According to Libération, it is the defenders of memory, historical truth and dignity who should be on the accuser's bench and the deniers on those of the accused, and not the other way around.
The French law does not allow for the prosecution of the deniers of the Genocide of the Armenians.
Libération's article is signed by such prominent figures as Charles Aznavour, Bernard-Henri Lévy, Alain Terzian, Raymond Kévorkian, Robert Guédiguian to name a few.