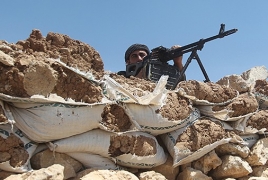 October 16, 2017 - 11:38 AMT
PanARMENIAN.Net - Iraqi security forces have launched a "major operation" in the Kurdish-held region of Kirkuk, advancing towards oil fields and a strategic military base, Al Jazeera reports citing Kurdish and Iraqi officials.
The army captured several positions south of Kirkuk, including the North Gas Company station, a nearby processing plant and the industrial district south of the city, an Iraqi military statement said on Monday.
"Forces are continuing to advance," it said.
An Iraqi Kurdish commander said the fighting with Kurdish forces caused "lots of casualties".
Bahzad Ahmed, a spokesman for Kurdish forces, said the Iraqi troops have "burnt lots of houses and killed many people" in Toz Khormato and Daquq, south of the disputed city.
The objective of the push early on Monday is to take control of the K1 airbase, west of Kirkuk, Lieutenant Colonel Salah el-Kinani, of the Iraqi army's 9th armoured division, told Reuters news agency.
Iraqi forces rolled into parts of the countryside outside Kirkuk city and took control of "vast areas" without facing resistance from Kurdish Peshmerga fighters, Iraq's state TV said.
Yet, a Kurdish security official denied that the Iraqi troops were able to get closer to the city or take territory from the Peshmerga, telling Reuters that the oil fields and the airbase were still under Kurdish control.