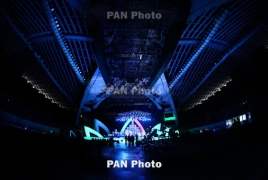 October 16, 2017 - 12:22 AMT
PanARMENIAN.Net - The EBU announced on Sunday, October 15 that Belarusian Member BTRC will host the 16th Junior Eurovision Song Contest (JESC) in Minsk in 2018.
To ensure the longevity of the Contest and allow more time to prepare the event, the JESC Steering Group decided to remove a clause in the rules that gave the winning broadcaster first refusal to host. Earlier this year EBU Members were given the opportunity to apply to host JESC 2018 and BTRC's application was judged to be the best.
It will be the second time that the Contest will take place in Minsk, following BTRC's hosting in the Belarusian capital in 2010.
Belarus has taken part in every Junior Eurovision Song Contest since the competition was created in 2003. The country has a very successful record, winning in both 2005 with Ksenia Sitnik and 2007 with Alexey Zhigalkovich.
Meanwhile, this year's host broadcaster Georgia's GPB is continuing preparations and will be releasing further information on ticket sales soon.