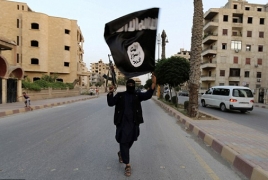 October 19, 2017 - 14:04 AMT
PanARMENIAN.Net - Besieged Islamic State militants fighting inside the greater Deir ez-Zor city area have conducted a powerful surprise offensive against the Syrian Arab Army, Al-Masdar News reports.
According to military sources, IS forces operating on Saqr Island staged a general offensive against the positions of Syrian army on Thursday, October 19 morning aimed at driving army troops into the Euprhates River.
The offensive was spearheaded by a tunnel bomb attack after which IS militants carried-out an intense storming of Syrian Army Republican Guard positions.
Despite the intensity of the attack, Syrian Army troops were able to quickly recover from the shock of the tunnel bomb detonation and hold their positions during the militant attack.
In the end, the jihadist offensive failed to break even the first line of army defenses and all IS forces managed to achieve in any regard were high casualties among their ranks.
This offensive co-insides with the very recent death of charismatic Syrian Army commander Issam Zahreddine, the top military leader for all pro-government operations in and around the Deir ez-Zor city area.
Some Syrian military sources see this IS offensive as an attempt by the militant group to capitalize on any possible loss in morale suffered by Syrian troops, however if this was the case then it was clearly a miscalculation by the jihadist faction.