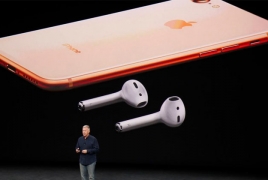 October 23, 2017 - 15:51 AMT
PanARMENIAN.Net - The newest iPhones -- the 8, 8 Plus and X -- all have a feature called Slow Sync Flash that makes photos taken with a flash actually look good, CNet says.
The name sounds technical, but it's a term borrowed from photography.
Basically the iPhone takes a photo at a slower shutter speed while firing the flash quickly. With the shutter open longer, the background is exposed more making it brighter. And with the flash going off for a shorter amount of time, it's less distracting to those around you. The results are to quote Larry David, "pretty pretty pretty good."
You don't have to do anything but enable your flash. The iPhone takes care of the rest.