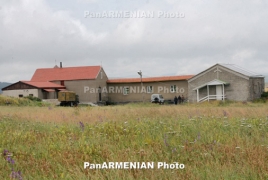 October 23, 2017 - 19:28 AMT
PanARMENIAN.Net - Following municipal elections in Georgia, Armenian resident Anivard Mosoyan from the party Georgian Dream - Democratic Georgia became the first woman to be elected the mayor of Ninotsminda (Javakhk).
She secured 77% of the vote and, according to preliminary results, won the post of mayor of the city, Rusarminfo says.
Mosoyan is a psychologist. She studied in Yerevan. In 1994, she started working as a teacher of the Georgian language in Ninotsminda and became the school's headmaster in 2018. Since 2014, she has been a deputy of the regional council of Ninotsminda.