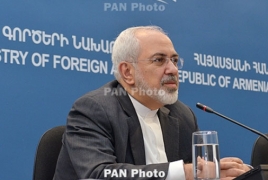 October 23, 2017 - 20:00 AMT
PanARMENIAN.Net - Unlike the U.S., Iran sees its interest in cooperation with the regional countries, Iranian Foreign Minister Mohammad Javad Zarifhas said, accrding to IRNA.
Zarif made the remarks Monday, October 23, after the 13th Iran-South Africa Joint Commission session and in response to a question on US Secretary of State Rex Tillerson's recent remarks about Iraqi and Iranian forces and also on Iraqi Foreign Minister Ibrahim al-Jafari's recent trip to Saudi Arabia to create Saudi-Iraqi Coordination Council.
In reaction to Tillerson demand, Zarif said the Iraqi people are at their home and they do not wait for anybody's order.
'I am happy that Iraqi have always defended their country,' Zarif noted.
'Exactly what country is it that Iraqis who rose up to defend their homes against ISIS return to? Shameful US FP, dictated by petrodollars,' Zarif earlier said in a Twitter message in reaction to Tillerson's recent allegations on the Iraqi popular forces.
During his tour to Saudi Arabia, Tillerson on Sunday urged the Iraqi popular forces to 'go home' or leave the country.