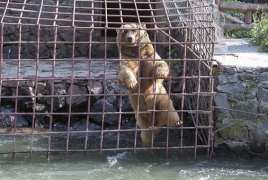 October 25, 2017 - 12:00 AMT
PanARMENIAN.Net - Dozens of bears live their entire lives inside small cages for the entertainment of diners, shoppers and bored commuters across Armenia, The Daily Mail said in an article on Tuesday, October 24.
According to the publication, they are caught as cubs and forced to live in tiny spaces, often living off scraps thrown to them.
In response,British charity International Animal Rescue is launching The Great Bear Rescue, aimed at freeing dozens of caged bears in Armenia.
The Sussex-based charity has won the support of the Armenian government and aims to rescue 80 bears from horrendous conditions, at a cost of 4,000 euros (£3,585) per animal. This will cover transport, care and rehabilitation.
IAR hope to be able to release a number of the bears back into the wild, but as some have spent their whole lives in captivity, the charity is also building a 75,000 euro (£67,300) sanctuary for those animals who would not survive in the forests.