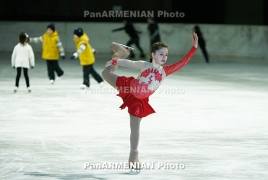 October 25, 2017 - 17:22 AMT
PanARMENIAN.Net - The ISU Grand Prix of Figure Skating was held in Moscow on October 20 - 22, with Armenia's representative Anastasia Galustyan also participating.
In Moscow, Galustyan took the 12th spot, while Russia's Evgenia Medvedeva snatched victory.
"The very fact of participation in such a tournament is already a great success for us," said the President of the Federation of Figure Skating, Melania Stepanyan.
"Now our leading athletes will participate in international competitions. Anastasia and Slavik Hayrapetyan will go to Tallinn to take part in the ISU Challenger Series tournament in November. The Tina Hayrapetian / Simon Proulx-Senecal pair will compete in a similar tournament in Warsaw."
Stepanyan also said that Edward Ter-Ghazaryan will leave for Romania to participate in an international junior tournament, the press service of the National Olympic Committee reports.