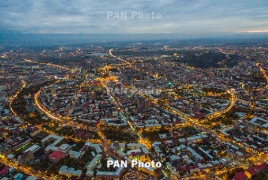 October 31, 2017 - 16:14 AMT
PanARMENIAN.Net - Tourist season is coming to an end in Armenia, but you still have a chance to bask in the sun there, MIR 24 said in an article, unveiling five reasons to visit Yerevan.
As the first reason, the publication cites the need to visit the Erivan fortress.
"The real wall of the Erivan fortress has been preserved, with egg white and clay used in its construction. That's why it is so persistent," a guide is cited as saying in the article.
Parajanov Museum is another reason to visit the Armenian capital. The artistic heritage displayed at the museum of the great director has no analogues in the entire world.
Another reason to visit Yerevan is the excellent food. "Today we will prepare Tavush borani. This is a typical Armenian dish from the Tavush province," says chef Ruben Matevosyan.
You can feel the spirit of modern Yerevan in the Cascade in the heart of the capital but it's not just a huge staircase. A large cultural center and a unique square with dozens of sculptures turn the area into a real open-air museum, the article says.
And finally, one more reason to come to Yerevan is to enjoy live performances of Armenian jazz.