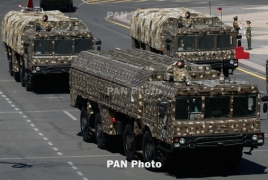 November 1, 2017 - 11:56 AMT
PanARMENIAN.Net - Moscow will soon supply Yerevan with a batch of weapons under the current contract, while the implementation of a new $100 million loan agreement, which has already been signed, will begin after the completion of all intergovernmental approvals, Armenian president Serzh Sargsyan has said.
"We will implement the previous agreement by the end of the year and are expecting new supplies one of these days, and by the end of the year we will conclude all issues related to the previous agreement," Sargsyan said in an interview with RIA Novosti.
"We have already signed a new agreement in Yerevan, it must go through all the Russian and Armenian authorities, then the ratification procedure, and afterwards we will start working with relevant manufacturers from the Russian side to implement this program."
The state export credit will be provided for 20 years (including a five-year grace period) with a 3% annual interest rate.