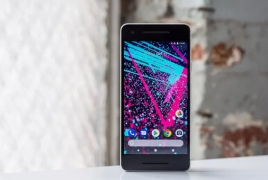 November 4, 2017 - 12:02 AMT
PanARMENIAN.Net - Some unlucky people received their Google's new Pixel2 XL phones without the Android OS and weregreeted with an error message: "Can't find valid operating system. The device will not start."
Google said that the problem has now been fixed, but not before a few people on Reddit reported receiving the defunct phones. Without an operating system, the devices are essentially useless. The only thing for these people to do is to get in touch with Google's customer support, and from there Google will ensure that they get a working phone, CNet reports.
The missing Android OS issue may only affect a small number of Pixel owners, but it joins a growing list of other Google hardware woes. The Pixel 2 XL is already under fire for screen burn-in, while other Pixel 2s have been said to emit a high-pitched sound. Still other reports claim that buyers have received phones that have failed quality control and that the Google Home Mini initially recorded living room conversations.
As Apple's ambitious iPhone X flies off store shelves, it's a bad time for Google's rival Pixel 2 phones to stumble.