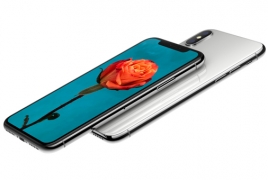 November 6, 2017 - 19:10 AMT
PanARMENIAN.Net - Apple's switch to an OLED display on the iPhone X means users who dig into the settings of the device can squeeze out more battery life, reducing the power consumption of the screen and extending the time needed between charges.
AppleInsider reveals how to do it below:
Apple already builds a "Low Power Mode" into iOS, which adjusts settings such as turning off background app refresh and lowering the screen brightness. But early adopters of the iPhone X looking to push their device even further can consider two other optional features: Smart Invert Colors and Grayscale.
Both of these options are found by digging into the iOS Settings app and choosing General, then Accessibility, and then Display Accommodations.
For smart invert colors, choose Invert Colors, then select Smart Invert. This is something of an unofficial "dark mode" for iOS, giving apps black backgrounds and white text.
Choosing to "smart" invert versus regular means iOS attempts to leave colors accurate for images, though the result in practice is hit or miss.
Regardless, when an OLED display shows black pixels, far less power is consumed. This is because each individual pixel is lighted, negating the need for a uniform backlight, such as with a traditional LCD display.
"Dark mode" user interfaces are a common way to conserve battery life on devices with OLED displays. In fact, Apple itself already employs this with the Apple Watch, which features black backgrounds across the entire watchOS platform to maximize uptime on the small, wearable device.