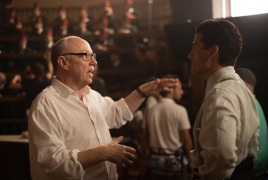 November 10, 2017 - 11:32 AMT
PanARMENIAN.Net - Joe Berlinger's "Intent to Destroy" - a documentary about the Armenian Genocide - has received positive reviews from the New York Times, The Los Angeles Times, The Hollywood Reporter and a host of other magazines and media outlets.
The New York Times, in particular, describes the film as a level-headed documentary whose balance of emotion and composure helps make its stories even stronger.
"Joe Berlinger, the director, uses old footage of survivors and insights from historians to provide an overview of the crimes. He also embeds himself with the cast and crew of "The Promise", a recent fictional film set around 1915 that explores the fighting and mass killings. Mr. Berlinger's plan is smart as well as symbolic — evidence shows that the Turkish government has often pressured studios into shelving movies about the genocide," NYT says.
The Hollywood Reporter, meanwhile, said in its review that the film is "excellent and informative."
"Intent to Destroy" delivers an account of the events surrounding the horrific events that began in 1915, using archival photographs and film footage and interviews with scholars, historians and authors.
The documentary includes an interview with Canadian director Atom Egoyan, who describes the pressures he felt while making his 2002 film "Ararat", about a filmmaker working on a drama about the Turkish atrocities.
"All of this material proves fascinating. It's a shame, then, that so much of "Intent to Destroy" plays like a special feature for the DVD edition of 'The Promise'," The Reporter says.
According to the Los Angeles Times, "Intent to Destroy" is another strong look at how an estimated 1.5 million Christian Armenians were murdered between 1915 and 1918 by the Ottoman Empire (which became the modern Republic of Turkey), and why, a century later, the Turkish government still does not formally accept the facts of this heinous massacre nor the use of the word "genocide."
Berlinger uniquely explores this complex, disturbing issue and has created a highly dimensional survey of what Armenians often call "The Great Crime", LATimes says.
"It's a masterful effort," the source says.
Read also:Armenian Genocide not up for debate in 'Intent to Destroy'- Jewish Journal
"Intent to Destroy" tackles death and Armenian Genocide denial