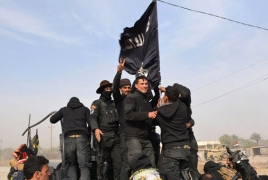 November 10, 2017 - 13:03 AMT
PanARMENIAN.Net - The Islamic State group has not given up hopes of restoring its regional caliphate as its remaining jihadist forces struck back against the Syrian Arab Army (SAA) in Al-Mayadeen, its former capital city, on Thursday, November 9.
Photos released by Amaq Agency, the primary ISIS outlet, show a series of rockets being launched from Islamic State pickup trucks into government-held southern Deir ez-Zor, targeting the SAA's frontier positions around Al-Mayadeen
Despite reaching out to its military sources, Al-Masdar News says it was unable to obtain information on whether the SAA sustained any losses due to the missile attack.
Over the past three weeks, no substantial gains have been secured by the SAA on the Al-Mayadeen axis. Instead, government forces shifted their attention to the T2 Pumping Station axis further south, leading to the capture of Abu Kamal City on November 8.
Following a simultaneous offensive in the provincial capital which led to the liberation of Deir ez-Zor City on November 4, thousands of Syrian troops are in the process of being transferred to the southern countryside amid a wider bid to seize the last ISIS-held towns along the Euphrates River, all of which are located between Al-Mayadeen and Abu Kamal. As such, the Al-Mayadeen front is expected to be reopened shortly.