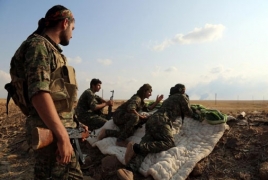 November 10, 2017 - 15:02 AMT
PanARMENIAN.Net - Following a large-scale tactical retreat by the Islamic State on Thursday, November 9, the Kurdish-led 'Syrian Democratic Forces' (SDF) seized over 20 villages on either side of the Khabur River in a region roughly 80 kilometers northeast of Deir ez-Zor City, Al-Masdar News reports.
With ISIS finally expelled from the Khabur River, the SDF is expected to regroup in the coming days for a major southwards push along the border with Iraq.
Meanwhile, SDF contingents operating on the Euphrates River axis southeast of Deir ez-Zor City took control of Al-Lawaziyah and Al-Qusayr, two villages on the perimeter of ISIS' Al-Busayrah pocket. Eight ISIS militants were neutralized during the operation to capture these villages on Friday morning.
With Iraqi, Syrian and Kurdish forces encroaching upon the Islamic State heartland from all flanks, ISIS is reportedly suffering from a huge shortage of militants willing to fight for the self-declared caliphate, rendering it impossible for the hardline group to turn the tides on the battlefield.
The SDF took control of the Abu Omar oil field – the largest in all of Deir ez-Zor – last month after ISIS militants defected to the SDF.