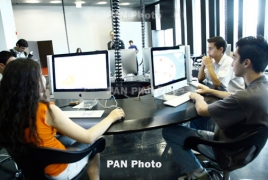 November 15, 2017 - 13:28 AMT
PanARMENIAN.Net - Armenia not only preserves its national traditions, but also develops a modern culture of upbringing and education of a new generation, a correspondent from Rossiyskaya Gazeta newspaper said after visiting the cities of Yerevan and Dilijan.
"There's much to learn from Armenia in the humanitarian field. In recent years, several major projects are being implemented here with the simple goal of educating intelligent children," the author says, citing the Ayb School and Tumo Center for Creative Technologies.
A new training model - the Ararat Bachelor's Program - was developed in Ayb, which was first officially recognized in Armenia as an alternative school curriculum, and then was named equivalent to the best international programs (English Cambridge A Levels and American Advanced Placement). Graduation certificate and marks without additional examinations are recognized both in Armenia and abroad.
"Now Armenia wants to extend the Ararat Bachelor's Program to the entire country. For the first stage, 23 schools were selected, and by 2023 the new model is planned to be introduced in all schools across Armenia," the article says.
"Another unique project is Tumo, which offers extracurricular education. Children from 12 to 18 years of age are taught animation, web design, game development, film production. Young people master 2D-graphics, 3D-modeling, programming, robotics, also learning to create websites and computer games. Meanwhile, specialists from Google, Disney and other industry leaders come to Tumo to conduct master classes."
"In fact, Armenia is developing a culture of familiarizing young people with IT-related professions of the future, the article added.
The first Tumo center will soon open in Beirut, negotiations are underway to open another one in Moscow.