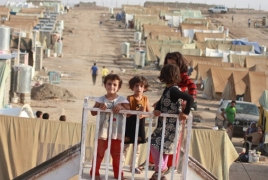 November 18, 2017 - 13:34 AMT
PanARMENIAN.Net - In reaction to a Saudi claim about Iranian intervention in the Arab countries' affairs, Syrian deputy ambassador to the UN asked the Saudi envoy whether Salman Farsi's suggestion to Prophet Muhammad (PBUH) was considered intervention, as well.
Saying that the cooperation between Iran and Syria is against terrorism and Daesh (Islamic State), and that Syria is proud of the collaboration, he added that he has to remind the Saudi envoy a small point to help him remember what had happened in the past, IRNA reports.
He said in the Battle of the Trench, in which Arab tribes had formed a confederation against the Prophet and Muslims, the Prophet's Iranian follower Salman Farsi suggested they dig a trench around the town and the suggestion saved the Muslims.
According to a Friday, November 17 report, Amjad Qassem Agha made the remarks in the third committee of Nations General Assembly, reacting to the Saudi representative who had alleged Iran is supporting terrorism in Syria.
The Syrian diplomat also thanked Iran and Russia to help Syria against terrorism.