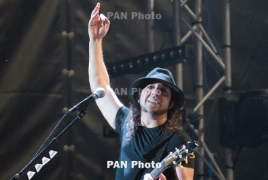 November 21, 2017 - 11:17 AMT
PanARMENIAN.Net - System of A Down's Daron Malakian posted a controversial tribute to mass murderer Charles Manson on his Facebook account, going as far as to cite his own experience as a descendant of the Armenian Genocide.
Charles Manson is an infamous figure in American history, a man who was responsible for leading a cult and convincing his disciples to kill nine people, including actress Sharon Tate.
"Very sad to hear the news about Charles Manson's death. During the time I was writing the Toxicity album, Manson's interviews and music were a big influence on me as an artist. I titled the song #ATWA after Manson's environmental organization. My interest was in the way he articulated his thoughts and his views on society, not in the murders," Malakian wrote.
In the comment section, Malakian tried to clirify his stance once more:
"Let me try to explain one more time for those who just don't get where I'm coming from on this Manson post. I don't back the murderer Charles Manson, I back his art and his views on social and environmental issues. Sometimes talented people do bad things. And for the people who are asking if I would feel the same if Manson killed my family or pregnant wife, this is an example for you. My family was in the Armenian Genocide where millions of Armenians were slaughtered by The Turkish government and Turkish soldiers. But I still enjoy Turkish music, Turkish art, and I have Turkish friends who probably had grandparents who were Turkish soldiers during the genocide."