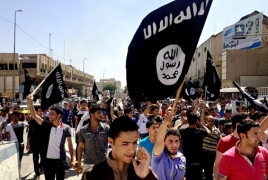 November 22, 2017 - 11:45 AMT
PanARMENIAN.Net - The Syrian Arab Army (SAA) resumed their offensive in the southeastern countryside of the Deir ez-Zor Governorate on Wednesday, November 22, striking the last towns occupied by the Islamic State (ISIS) forces between the cities of Al-Mayadeen and Albukamal, Al-Masdar News reports.
Led by the 4th Division on one side and the Tiger Forces on the other, the Syrian Arab Army flanked the Islamic State's positions this morning, scoring a new advance against the militant group.
As a result of this advance, the Syrian Army's 4th Division is within 15 km of reaching the Tiger Forces' front-lines near the southeastern countryside of Al-Mayadeen.
The Syrian Army launched the operation to close the Islamic State pocket shortly after liberating Albukamal this past weekend; thus far, they seized several villages and towns near the Iraqi border-crossing.