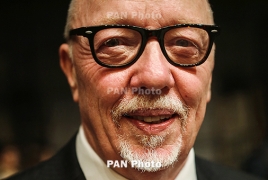 November 22, 2017 - 16:39 AMT
PanARMENIAN.Net - Youth from the COAF beneficiary villages of Hatsik and Aragatsavan had the opportunity to take part in a virtual reality experience with screenwriter/director Terry George ("The Promise", "Hotel Rwanda", "In the Name of the Father"), producer Dr. Eric Esrailian, and Armenian youth from Los Angeles and Amman.
Held on International Day for Tolerance, the Siroun VR Project was organized by Global Nomads Group to foster dialogue and understanding about various injustices occurring around the world. A group of students from both villages gathered at the local school renovated by COAF in the community of Hatsik.
Siroun is an educational resource that supplements the central theme to the film The Promise- "injustice is enabled by silence." As a virtual reality experience, it gives viewers an opportunity to immerse themselves in a rural Ottoman village at a critical moment in history, creating a foundation of empathy to consider the choices and experiences of everyday people caught at the crossroads of conflict, civil war and genocide.
Students exchanged their viewpoints on why they believe the Armenian Genocide remains unrecognized, how to prevent bullying at school for kids who are perceived as different, and why intolerance has led to so many atrocities around the world.
"We were very happy to see our kids embracing more tolerant and open mindsets as opposed to retaining anger and resentment rooted in historic memory," said Ester Hakobyan, COAF Programs Director.